We invite you to share your pet adoption story with us at Petland Norwin. Your story has the power to inspire and uplift others, encouraging them to consider adopting a furry friend of their own. By sharing your experiences, you become part of a community that celebrates the joy, love, and transformation that comes with pet adoption. We value every unique story and appreciate the opportunity to connect with pet lovers like you. Read some of our remarkable adoption stories below!
Happy Tails! A Petland Norwin Adoption Story: Lucky
We adopted Lucky on 3/16/17. (Formally known as queenie) Initially when we did the meet and greet Nugget wasn't too excited about getting a baby sister. Now they are the best of friends!! It's been over 2 months and Lucky girl is completely potty trained and does a few tricks. She loves people, but we are getting her socialized with new dogs. She is thriving in her new home.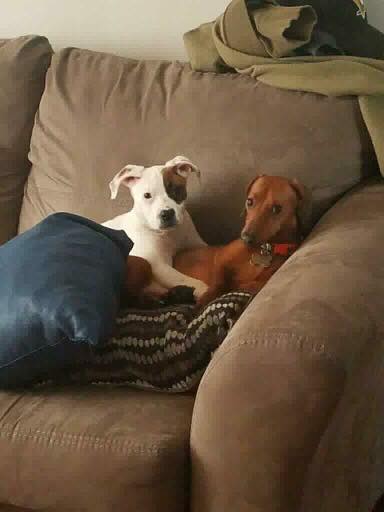 Happy Tails! A Petland Norwin Adoption Story: Winnie
It's funny. It was her eyes. Her eyes stood out to me. As I went to pick up my dog, Leo, from daycare, we made eye contact, and I thought, "What a pretty girl." I then went about my business, got my dog, and went home. The very next day my wife pointed out the same dog, and at that moment, I knew she was meant to be ours. Her eyes had hooked us both.We'd have to adopt her.
Weeks in, Winnie is a blessing and has been a great addition to our home. She and Leo bonded immediately. She has taken well to daycare, and everyday my confidence in our decision to adopt her increases. I have so much faith in the folks at Petland Norwin. They made the adoption process easy, and I trust the staff fully in taking care of our babies while we are at work.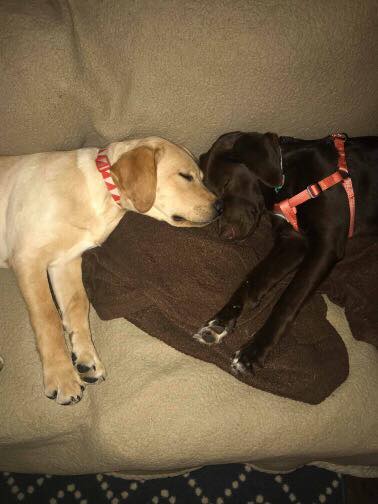 Happy Tails! Check out this great Petland Norwin Adoption Story!
My son's dog had to be put down on Easter Sunday last year and my son was of course heartbroken. It took him a while before he could even consider getting a new best friend, but when he did, we began the search because we knew how important his furry buddy was. My son wondered how he'd know that he had found the right dog for him and I said it would be a dog that immediately touched his heart. After much looking, he found a dog at a local shelter that did just that. We signed the papers and had to wait a week to bring him home while he was being neutered. My son had regained his smile. Then disaster struck again. Two days before we were scheduled to pick his new dog up, the shelter called to say he had died suddenly of Parvo. My son's world crashed around him as I had to tell him the news that his new best friend had passed before we had even gotten to bring him home. He was devastated. I left work early that day and, as we had just heard that Petland Norwin sold only rescue dogs, we headed straight there. We played with every dog in the store. They were all great, but none touched my son's heart quite the way his previous dog had. We had just finished saying goodbye to the last dog in the store and were literally getting ready to leave when we spotted a Petland Norwin worker bringing a dog into the store on a leash – a beautiful tan and white husky mix. In that moment, I saw the look in my son's face – his heart had been captured. We knew within seconds that she was the one. We adopted her that night and they've been best friends ever since! Petland Norwin literally turned around a horrible few weeks into something wonderful and brought the smile back to my son.